July's approaching fast and you know what that means. . .
The Melbourne Documentary Film Festival is back!
Now in its 6th year, MDFF kicks off a month of documentary festivities beginning July 1st – 31st with an online festival and an in-cinema festival scheduled to take place July 21st – 31st.
Screening information and a full list of films playing at the online fest can be found here.
We had a look at the films set to screen online and picked out 16 of ours faves that will move, inspire you and make you say: "Wow, that is stunning filmmaking."
---
"Holy Frit" directed by Justin Monroe
Synopsis: "In this three-year race against time, Tim Carey, a talented, yet unknown L.A. artist, bluffs his way into winning the commission to create the largest stained-glass window of its kind. The problem is, he doesn't know how to make it. After a desperate search, he finds someone who might have the answer – a famous glass maestro named Narcissus Quagliata."
"The Last Horns of Africa" directed by Garth de Bruno Austin
Synopsis: ""The Last Horns of Africa" follows the journeys of two conservation heroes who put their lives on the line to protect the rhino in their care, while a top-secret operation endeavors to bring down South Africa's rhino poaching syndicates."
"Claydream" directed by Marq Evans
Synopsis: "A modern day Walt Disney, Will Vinton picked up a ball of clay and saw a world of potential. Known as the "Father of Claymation," Vinton revolutionized the animation business during the 1980's and 90's. But after 30 years of being the unheralded king of clay, Will Vinton's carefully sculpted American dream came crumbling down at the hands of an outside investor, Nike's Phil Knight."
"Yes I Am – The Ric Weiland Story" directed by Aaron Bear
Synopsis: "With his signature on the foundation of one of the most recognized brands in the world, his commitment to gay rights and HIV/AIDS research, and his passionate and quiet dedication to philanthropy, Ric Weiland changed the world we live in. An openly gay software pioneer, Ric found early wealth as the second employee at Microsoft in 1975. He was an integral and valued part of their early successes and helped shape the company into what it is today.
Feeling uneasy and undeserving of his newfound wealth, and plagued with depression and imposter syndrome, Ric retired at 35 to quiet nagging doubts and to create impactful and meaningful change in the world around him. His generosity and influence helped shape modern HIV/AIDS research, marriage equality, and protections for LGBTQ employees at some of the biggest names in the business.
Through the personal diaries he left behind, we see a clearer picture of the beloved, talented, and troubled man that Ric Weiland was. It's a chilling reminder that no matter how much success one finds, everybody needs help… Geniuses included."
"Anchor Point" directed by Holly Tuckett
Synopsis: "Women have been a force in wildland firefighting since 1942. Still, they remain outnumbered 10-to-1 on the fire lines and do double-duty battling both the infernos that scorch public lands and the smoldering embers of discrimination, misogyny and sexual harassment that continue to suppress their voices. Told in cinema verite, "Anchor Point" chronicles the 2019 fire season through the eyes of two women, generations apart, as they push to change the culture of wildland firefighting."
"The Road Up" directed by Greg Jacobs and Jon Siskel
Synopsis: ""The Road Up" follows four participants in Cara, a Chicago job-training program, as they seek to make the long journey from rock bottom to stable employment. Throughout, they are guided, goaded, and challenged by their impassioned mentor, Mr. Jesse, whose own complicated past drives him to help others find hope in the face of poverty, addiction, homelessness, and trauma. Taken together, their stories create a powerful mosaic of the struggles millions of Americans face every day in a precarious and unforgiving economy, the daunting and often interconnected challenges that prevent so many from getting—and keeping—a job. Because when all that's behind you is wreckage, and everything in front is an obstacle, how do you find the road up?"
"Chasing the Present" directed by Mark Waters
Synopsis: "Director Mark Waters' visually stunning documentary follows James Sebastiano, a materially successful young man, as he engages in a perpetual battle against anxiety. During this life-changing journey James explores why a person who seemingly has it all, can still suffer from debilitating panic attacks in the hope that he can learn how to finally break free from his crippling anxiety. On a worldwide journey of self discovery from the streets of New York, to the stillness of the Ganges, and deep into the jungles of Peru, he unexpectedly uncovers deep truths about who and what he is."
"Mosley" directed by Michael Shevloff
Synopsis: "Chronicling the life and times of former FIA president Max Mosley, who reigned at the head of F1's governing body from 1993 to 2005, the project takes a no-holds-barred approach to the story of his career."
"Horton Foote: The Road to Home" directed by Anne Rapp
Synopsis: ""Horton Foote: The Road to Home" is a documentary that chronicles the creative journey of acclaimed Texas writer Horton Foote through his own eyes and voice at the end of his life. Foote, who was born and raised in Wharton, Texas, went on to become a Pulitzer Prize winning playwright, the winner of two Academy Awards for screenwriting, an Emmy Award for television writing, and was recipient of the National Medal of Arts among numerous other theatrical and literary prizes. His long and successful 70-year career of writing consisted primarily of stories set in the small town of Harrison, Texas, a fictitious version of Wharton. Horton was known for his delicate yet deeply-layered and profound storytelling — about family, human connections, struggles, resilience and redemption."
"TOPOWA! – Never Give Up" directed by Philip Sansom and Inigo Gilmore
Synopsis: "This is the inspirational journey of 12 young musicians from some of the toughest slums in Uganda, to some of the biggest music stages in the world. It's a story of resilience and hope, carried along by a joyous, foot-stomping celebration of music and life. At the heart of this film: the power of music to change lives and a charity called Brass for Africa. From the dusty dirt roads of Katwe slum to the paved streets of London and the fields of Cheltenham Festival, we will follow Julius, Sumayya, Tadeo, Gilbert and the Brass For Africa band as they are welcomed into the UK for an experience that will transform their lives forever. We will see the hope that has been created and see the teachers empowering the next generation of musicians to follow their dreams. 'Topowa! Never give up!'"
"Catherine's Kindergarten" directed by Kaye Cleave
Synopsis: ""Catherine's Kindergarten" is the story of a mother's emotional journey to confront her grief after the death of her only child, juxtaposed with her physical journey to a Nepalese mountain village to open a school in memory of her daughter."
"Call for a Poetic City" directed by Elisabeth Felson
Synopsis: "Horse-riding in a large city centre isn't a touristic endeavor, but undertakes a unique role at the community level.The Nye family, who arrived in London from Australia in the 60's, established a stable in Hyde Park, working at the community level, democratizing riding in the city, providing riding for the children, the handicapped, and the schools, teaching young people hard work, passing their dream from generation to generation. The camera captures the day-to-day routines and challenges of Ross Nye Stables with humour, poetry & strong cinematography."
Read our review here.
"We Are Conjola" directed by Anthony 'Ash' Brennan
Synopsis: "NYE 2019. Director and filmmaker Ash Brennan lost his house in the Conjola Park Bushfire which nearly killed his brother and many others who stayed to fight. From a Perth hotel room, Ash saw the first image of what used to be his house in the background of a news report. After almost being wiped off the map, a traumatized community waited for help. But it never came. Conjola was abandoned and left for dead. Local artists then started creating. They needed to heal. It gave the community hope and solidified their journey to recovery, together. Ash hopes that this film will be part of that recovery."
"Punks" directed by Maasja Ooms
Synopsis: "The parents are at their wits' end, so a temporary supervision order is the last hope for a group of teenagers in "Punks." Now, on a remote farm in France, they're going to have to get their lives back on track with the help of a counselor."
"Coogan's Way" directed by Glenn Østen Anderson
Synopsis: "In the late 1980s and early 1990s, NYC's Washington Heights neighborhood was considered the epicenter of America's crack cocaine epidemic. Amid gang wars, street riots and growing tensions between citizens and police – the community needed a safe space, a political hub, a cultural center and a home-away-from-home. "Coogan's Way" is the story of how a small bar and restaurant that welcomed all races, religions and interests became a force for good in their community. And how decades later, when the owners were faced with the challenges of a rapidly-changing NYC real estate market, their diverse and dynamic clientele fought for this beloved institution."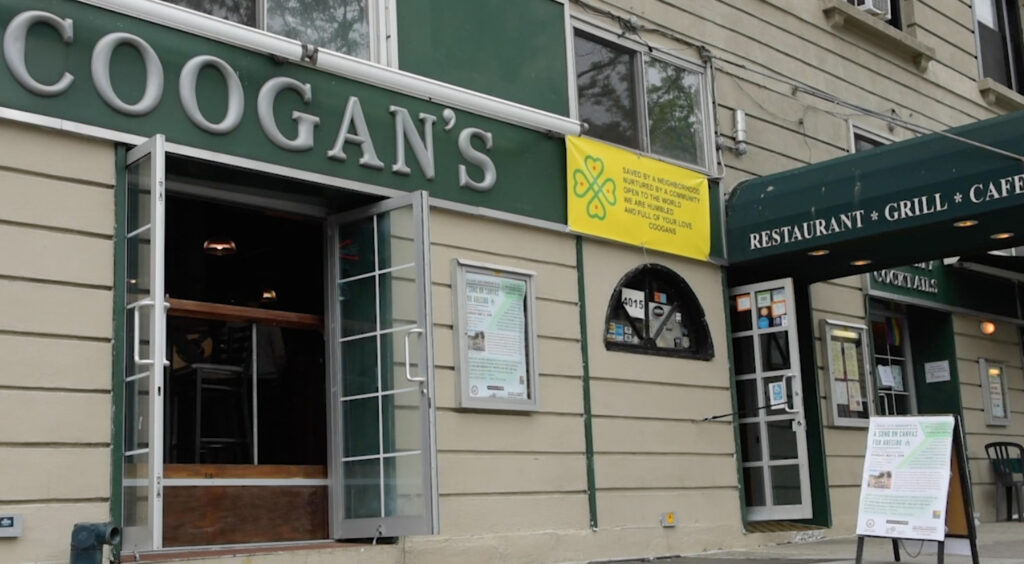 "Women of Steel" directed by Robynne Murphy
Synopsis: "Wollongong, New South Wales, 1980: Denied jobs at the steelworks, the city's main employer, working class/migrant women refused discrimination. Their 14-year campaign for the right to work pitted them against BHP, the richest and most powerful company in Australia. In "Women of Steel," they tell their personal stories – from the unemployment line to the factory gate to the High Court. It's an exciting and often humorous story of the ups and downs of a group of seemingly ordinary women, determined to overcome a giant. This is an extraordinary but little known episode in women's history!"
Let us know what you're most excited to see. For more information and to learn how to stream the films, visit: mdff.org.au and watch.eventive.org/mdff.