One of the great mockumentaries screening at this year's Melbourne Documentary Film Festival is "Roarhouse v The State" directed by Marjetka McMahon-Krizanic and David de Roach.
When watching a mockumentary one usually expects to laugh, and "Roarhouse" certainly delivers on these comedic elements, yet what one doesn't always expect from a mockumentary is to be moved on a deeper level by the backstory of the film and those involved in its production—this is what makes "Roarhouse v The State" so special.
Through a mock trial, the film highlights the importance of community arts and the impact that the inclusive arts platform Roarhouse Melbourne has had on its members. It is a film that not only leaves you smiling from beginning to end, but inspired that such a group exists and is providing opportunities for those often on the fringe of their communities to come into the fold and share their individual talents in the arts with us all.
Marjetka McMahon-Krizanic, the founder of Roarhouse Melbourne and co-director of "Roarhouse v The State" talks with Documentary Drive about what went into the production of Roarhouse's first film and how the influential arts program got its start.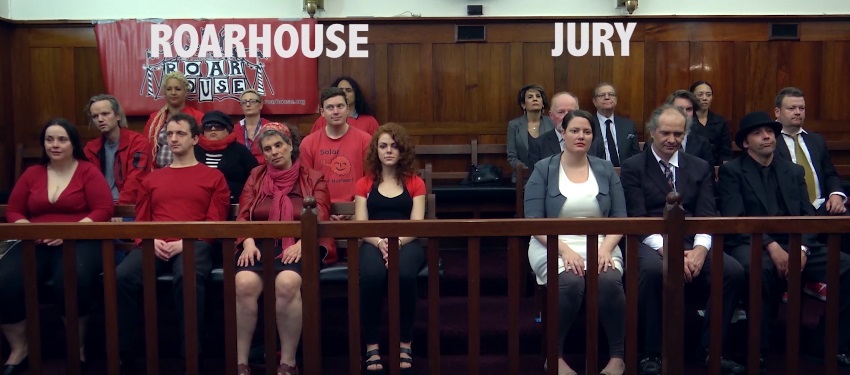 Documentary Drive: For those who may not be familiar with Roarhouse Melbourne, can you share a bit about its history and why you founded the group?
Krizanic: I returned to Melbourne in 2005 after spending 10 years in Ballarat working in disability arts, music and theatre and raising my two children. Whilst living in Ballarat I frequented Melbourne to play music and get deeply entrenched in its colourful peripheral art scene. By the time I relocated, I found a vast community of like-minded artists that I had connection with.
Within a year, I was fortunate enough to join the City of Port Phillip's vibrant arts and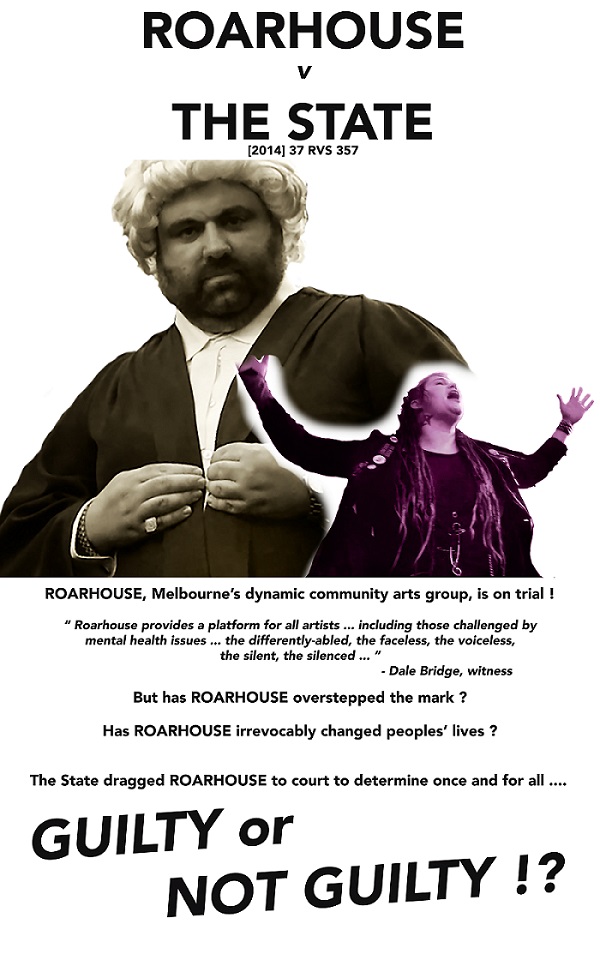 cultural department, working in their community arts theatre projects.
I worked alongside some of the most charismatic and genuine individuals that I had ever met, with extraordinary stories who also happen to be the most severely impacted by disadvantage through mental illness, acquired brain injury and other complex issues. Among them were talented musicians, writers, storytellers and performers.
I was fascinated by their stories, captivated by their heroism and warmed by their generosity. Here were some of the most misunderstood people in our society. I think it was this anomaly and my own migration story that compelled me to establish Roarhouse.
I felt an urge to raise the profile and give opportunity to this invisible class, using art as the connector, coupled with my artistic networks out in the broader community.
Working in community arts is a deeply nourishing experience. Being a child of immigrants; first generation out, I know too well what it feels like to be on the lowest level of the social order with that feeling of being misunderstood by the wider community. The idea of developing a platform upon which everybody has a voice was really important. It was vital that this silence should have a place of congregation, where individuals could freely talk about their mental illness and not be judged.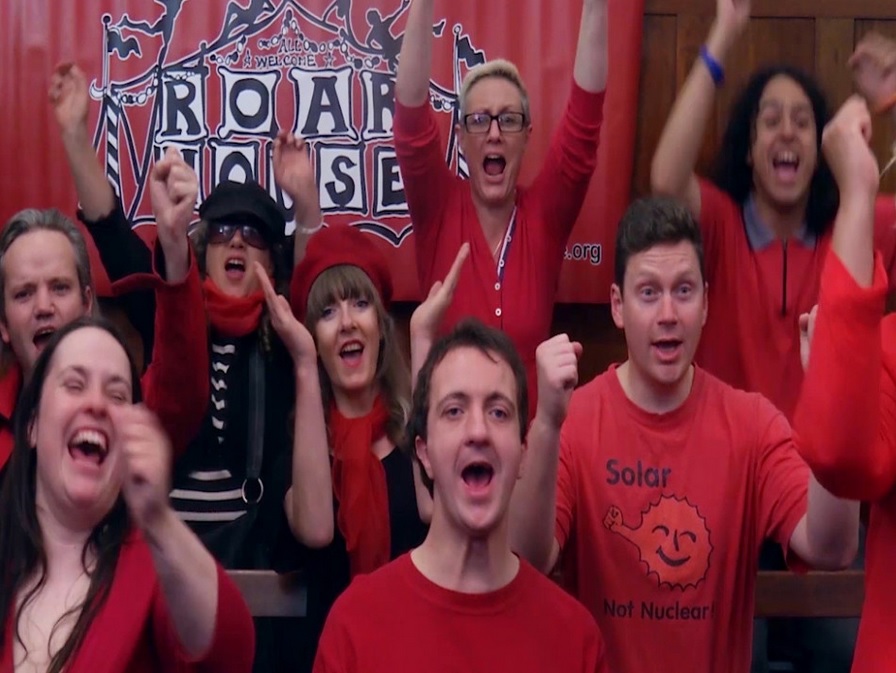 Roarhouse was launched on the 11th of July, 2006 at the Town Hall Hotel, South Melbourne to a small group of enthusiasts.
By 2008 we were running open mics at prominent venues in Melbourne including The Espy in St. Kilda and others in Northcote, Thornbury and Brunswick.
We jumped on the back of Melbourne's cultural festival circuit (Kingston, Darebin and Moreland) and the Melbourne Fringe Festival in which we received a 'Best Special Events Award -2009.'
During 2006 – 2012, we engaged over 1400 artists of all abilities from all corners of society and staged over 150 events, working alongside 70 volunteers. We raised awareness around mental health and created links into broader arts and cultural forums. Many friendships and creative alliances were forged. The camaraderie was alive on and off stage.
What set us apart from other community arts access initiatives was our radical inclusion model. Most commonly, community development arts access events were set in more traditional venues and attracted, in the majority, your regular community art goers, industry workers, family and friends. In comparison, our events were actively robust and consistently present on Melbourne's art circuit.
Documentary Drive: The film is an incredibly fun mockumentary. Why did you choose this style as opposed to a traditional documentary format? Was it a group decision?
Krizanic: After I'd written up the first draft I sent it across to my co-director, David de Roach. We didn't engage in a formal discussion on what style of documentary it was going to be. However our general vibe is comedy, satire and parody and so it just flowed. Using this metaphor gave us room to navigate a landscape in which we could weave a powerful message and vulnerable enough to give us permission to laugh at ourselves and make 'light' of our collective fragility as human beings living in a complex world. It was the right genre to deliver what can be a heavy subject. The vibe of the film is central to our main tenet: 'Unity is Strength.' We don't concentrate on the symptoms and differences that separate us; rather we celebrate what unites us.
Documentary Drive: How many members of the Roarhouse community does the film feature?
Krizanic: The entire production engaged fifty cast and crew members. Thirty five of which were former or current Roarhouse performers or volunteers. Fifteen were new volunteers.
Documentary Drive: Is most of the film scripted or does it include improvisation, as well?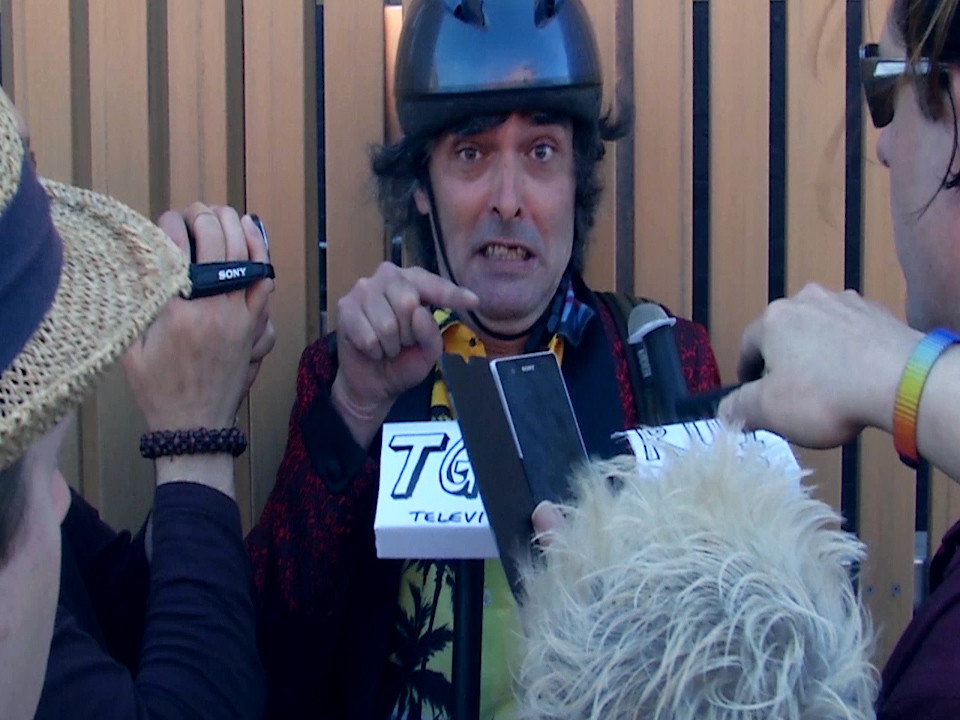 Krizanic: The film was scripted. However, each cast member was encouraged to make the script their own, changing the structure and format and rearranging the words. This way they could personalise the dialogue, creating a natural flow with plenty of chutzpah.
Documentary Drive: Did you have a set amount of time for filming? What did a typical day look like?
Krizanic: We shot the film over 3 days, working an 8-hour day schedule. Organising a film shoot can be a logistical nightmare so excellent communication and organisational skills are essential. Making sure that all the boxes are ticked, all sets timed and everyone is clear on what their role and responsibilities are. Now I understand why hierarchy on a film set is crucial.
A typical day involved setting up the film set: cameras, lighting, monitors etc., organising cast and supporting crew, paying attention to OH&S and keeping it all together when things got out of shape. And yes, things do go south. Having good communication skills, a positive attitude and a good dose of humour helps.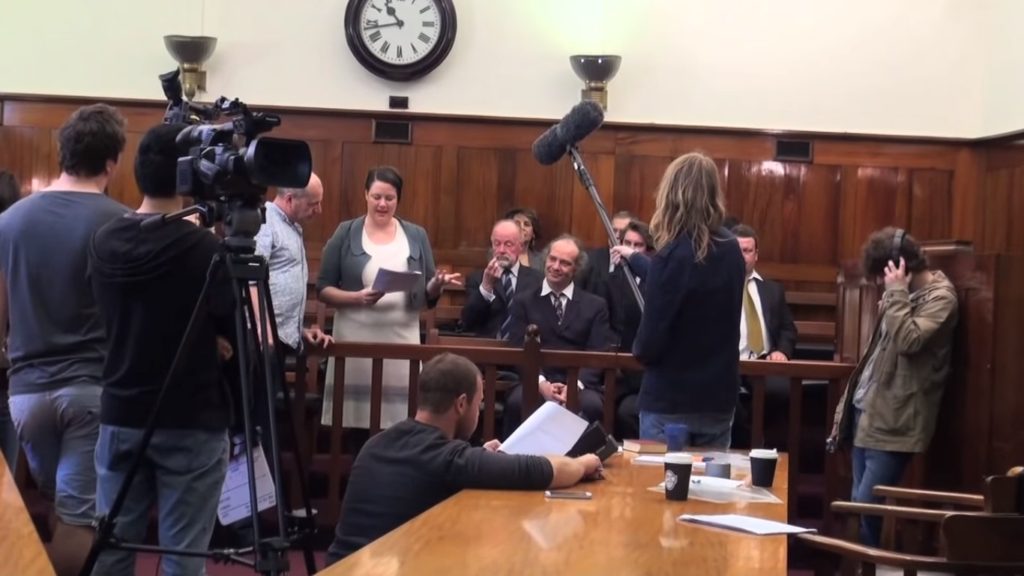 Documentary Drive: Was there anything that didn't go as planned?
Krizanic: Things invariably do go wrong. In our case most things went well aside from the confusion over who was 'directing' in the first 2 hours on the first day of filming.
Navigating a film set was a challenging experience for David and I. Neither one of us had managed or directed a production of this size before. All we wanted to do was follow our storyboard, direct and shoot film. Simple, right?
Film sets are expensive platforms and they need to be tightly monitored and managed, with structures, processes and hierarchy in place to avoid chaos and wasting time. In addition, there are the 'rule of thumb' film industry standards to follow when shooting a scene.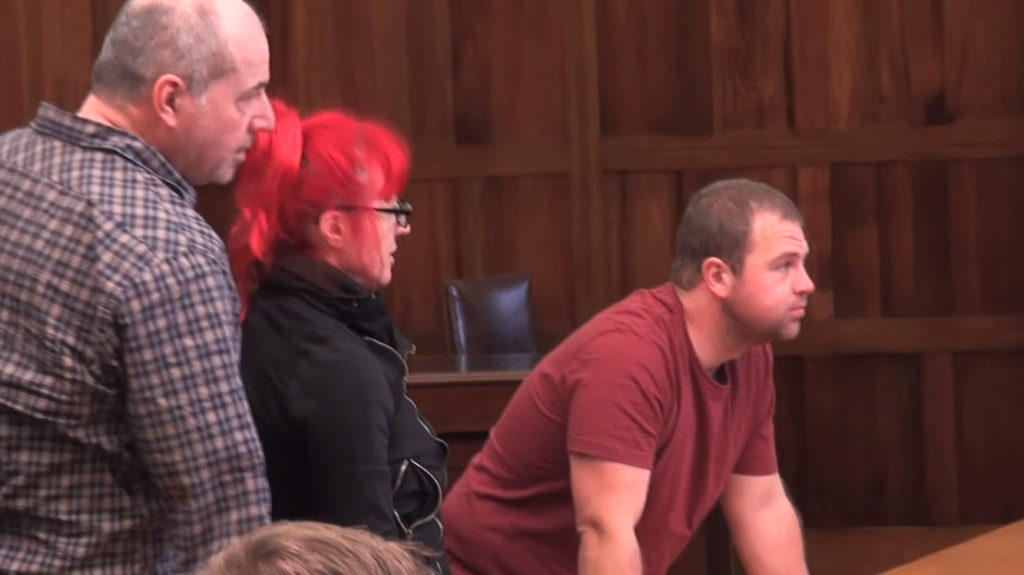 For each shot in a scene there are wide frames, mid frames and close ups, all of which you need to get before you get fancy with angled shots or anything else your creative imagination can think up. If you don't do this you run the risk of not getting enough coverage, which means you eliminate your choices when you're editing the rushes.
There was enormous pressure to get it right, not waste time, take advice and make informed decisions. It's a huge challenge but a very rewarding experience.
Documentary Drive: How was the film funded?
Krizanic: We crowdfunded the film on Pozible. Most of our funding was spent on catering, props and hiring equipment.
Documentary Drive: Crowdsourcing campaigns like this can sometimes be a hit or miss for many filmmakers. What was your experience like using this type of platform?
Krizanic: We found this platform a successful way in which to fund the project. We reached our target. My advice to all filmmakers who are considering crowd funding their project, do your research. There is plenty of information on the Internet on how to make your campaign successful. This is all good advice. In our case, we had a strong community who supported the making of this film.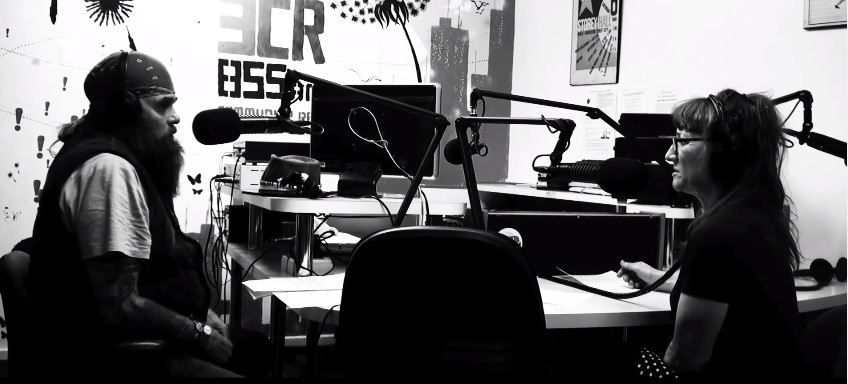 Documentary Drive: What was your favourite thing about making "Roarhouse v The State"?
Krizanic: My favourite thing about making this film was the camaraderie that was present on and off set over the three days. The other was the creative energy generated when working with a bunch of charismatic thespians and the excitement of seeing your hard work unfold in the climactic process of making the film.
I was wearing many hats over those three days. I had major roles and responsibilities on and off set. Managing my stress was pivotal. It was crucial to keep a positive attitude with a generous dollop of humour to make sure that everyone was supported, fed, watered and comfortable.
In my opinion there is no room for bad behaviour in community arts, otherwise why would you do it. I'm very conscious of the way I operate when managing people. There are many generous performers and volunteers who are giving you their time, energy and creative ideas. That's a gift to be grateful for.
Check out our "Mockumentary Behind the Mockumentary: Roarhouse v The State [2014] 37 RVS 357" on YouTube. Everyone was open to be challenged, have some fun and get this thing done. I think the "Mockumentary Behind the Mockumentary" is a good example of the energy and good will that is Roarhouse.
Documentary Drive: I'm sure that Roarhouse is going to have many new fans after people see the film. How can people find out more information and become involved with the group?
Krizanic: If people are interested in finding out more about us or what we're up to check out our links at the end of this article. At the moment we are creating vibrant pop up open mics gigs in public, private and community housing estates.
Documentary Drive: Is there one thing that you'd like the Melbourne Documentary Film Festival audience to know about those in the film or those involved in its production that perhaps the film doesn't convey?
Krizanic: This film happened through the generosity, commitment and conviction of the Roarhouse Melbourne community. Without them, we would not have a film.
---
To learn more about Roarhouse Melbourne, visit Roarhouse.squarespace.com and follow Roarhouse on Facebook, YouTube, and on Twitter. "Roarhouse v The State" screens July 10th at the Melbourne Documentary Film Festival during Docs After Dark. Tickets are currently available through Moshtix. 
More festival information online at: mdff.org.au / @mdffest / MDFF Facebook Group
In addition, Roarhouse Melbourne invites you to join them on Tuesday, August 2nd, for a BBQ, walking performance tour & good fun as they and Port Phillip Housing Association are together raising awareness for Homeless Person's Week at Chelmsford & Pyrmont Community Housing Estates in St. Kilda (50-52 Barkly Street). The event takes place between 6 p.m.- 8.30 p.m.