Screening July 9th at the Melbourne Documentary Film Festival, "Painting Landscape" is a four minute documentary that brings audiences into the daily routine of artist Alexandra Sassé as she works on a painting of suburban Melbourne over the course of ten months. Directed by Zac Hodgkinson, the film seeks to show artistic creation as a part of everyday life and beautifully explores the question: "How do artists create and where does their vision come from?"
Working as an independent artist for almost twenty years, Sassé holds a Master of Fine Arts degree from Monash University and earned her post-graduate diploma in Visual Art from Victorian College of the Arts. Over the years, her work has been featured in numerous group and solo exhibitions throughout Victoria, including at the Latrobe Regional Gallery in 2012.
A collection of six of her works can be seen on permanent display at the Melbourne Cricket Club.
Often known for her oil portrait work, Sassé credits a 2012 Artist Residency at the Cornaro Institute in Cyprus with re-sparking her interest in landscape painting.
As part of our on-going MDFF coverage, I had the great privilege of interviewing Sassé recently who shared with me details about her creative process, why she wanted to make a documentary, the wonderful and challenging aspects of painting in open air, and some of the best places around Melbourne to see art.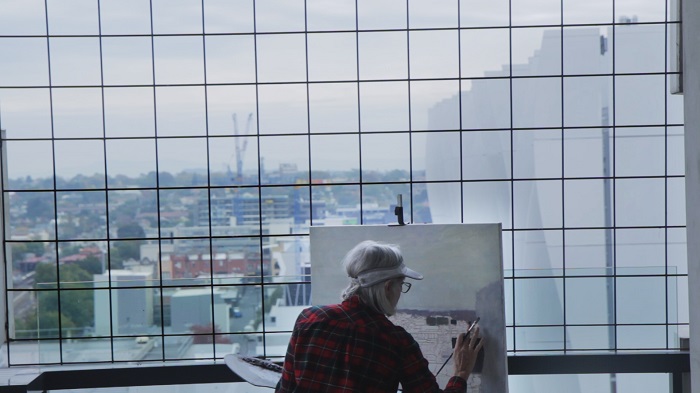 Documentary Drive: As a visual artist, what do you find inspiration in?
Sassé: I like to walk to find what I am looking for – the light and colours of Melbourne are constantly exciting. The difficulty with a painting is not the inspiration as much as condensing what I am passionate about into a composition. I have a very clear feeling of what I am after from the beginning of a picture, although I don't know what it will actually look like. It's like hearing a tune, and then finding a way of putting that down. I often think of it as just one note. Like a bell. When I have got the picture to strike that note that I first heard in the landscape I know I have completed the painting. It has to be very clear.
Documentary Drive: How did the idea for the film come about and why did you want to capture the experience of creating a painting of suburban Melbourne on film?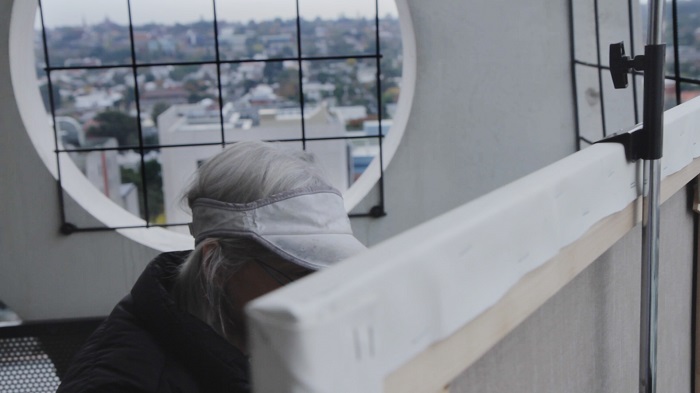 Sassé: I realised that people love to see a work of art develop.
As I work on site, in public, people come across me.
I did a painting from the top level of the car park at Box Hill Central. People are just going shopping, and trying to find a park.
The top level is not the best carpark, it's windy, you have to get into the lift down to get to the shops and your car is in the sun or rain. So they are not parking there feeling particularly happy about it. They are just getting stuff done as we all do. Then they see me working on a picture. It's something unusual for most people and they are really engaged by the process, so I thought I had good material for a film.
I wanted to cast making art as a really ordinary daily thing to do, not something separate from the world, an heroic moment in a studio. I was also aware of Spanish painter Antonio Lopez Garcia's film "El Sol Del Membrillo," which shows the artistic process as part of daily life and this really resonated with me.
Documentary Drive: Is there a particular reason you chose Hawthorn and Swinburne University as your setting?
Sassé: Accessibility was key – I live nearby, and I covet buildings with views. Swinburne generously allowed me to come and go as I needed. I am always on the lookout for my next perch. I see lots of possible paintings everywhere, but finding a place to work from isn't always easy. It comes down to mundane requirements – I need somewhere safe to set up; access to a toilet is helpful. Out of the wind is a luxury, as is shade. If anyone is reading this, and has a suitable spot in mind, get in touch!
Documentary Drive: What types of planning or preparation do you do before beginning a painting like this?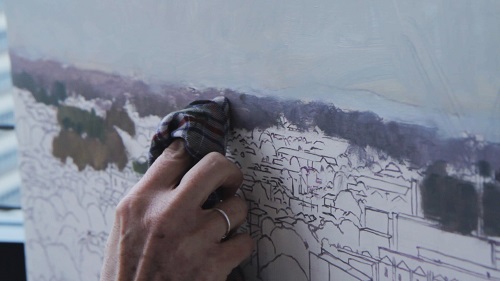 Sassé: Once I have an idea for a painting, I make a detailed line drawing to find the composition and familiarise myself with the forms. You get to know the shapes intimately. This is really necessary so that you can know what the skeleton is before you begin to hang paint on it. If you don't understand the form, or haven't worked out the composition, you can't really let fly with the paint, you tend to work very tightly because you are still finding out where things go and you don't know if the composition will work.
But with a good idea of the drawing underlying the work, you can lose shapes in the paint, and then find them again later. This means that you can mess about with the medium, which is really vital.
Painting isn't colouring in, it's layers and textures and much more. The drawing takes at least a month, for this picture I think it was 6-8 weeks. The question always comes up, so I will answer it here: No I don't use a camera or any visual aids. I am not a puritan about media, I just don't find them helpful, they argue with my version of what I see.
Documentary Drive: What are some of the things you enjoy most about painting en plein air?
Sassé: I get a lot of pleasure from looking at the world. It's an occupational bonus really. The terrific thing about painting en plein air is being immersed in the colours and sounds of the world and being able to put that down in paint so others can see it. We all look at the world, but I've found that we see quite differently from each other. Often I have had people stand next to me while I'm working, and they say – 'I'm trying to see what you are looking at.' For a painter it's more just as much about what you are looking for.
Documentary Drive: Can you share a few of the challenges you faced during this project?
Sassé: This way of working is challenging. Some days I wear snow gear to work. I stand up for hours. I lug the entire rig on-site and back to the studio each day. If you turn your back on it, a gust of wind might turn the whole thing into a kite. I almost lost this picture a couple of times. Then there's Melbourne's mercurial weather – I am glued to the weather forecasts.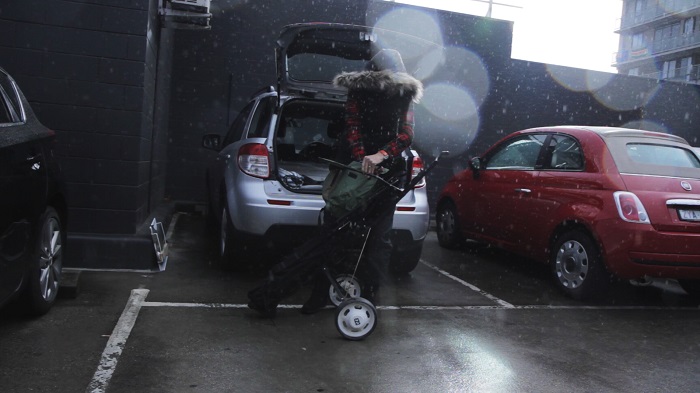 The other challenge is expectations. I know the process will take months, but I sometimes feel like the author who spent a morning putting in a comma and the afternoon taking it out. It's a challenge to keep faith in the picture when the work is going slowly. My family is wonderful about that. They are really good at not asking 'When do you think it will be finished?'
Documentary Drive: What is the name of the painting documented in the film and where might people be able to view it on display in the future?
Sassé: The painting documented in the film is called "Hawthorn towards Camberwell," and it will be in my solo exhibition at fortyfivedownstairs early next year. If you want to be sure you don't miss it, you can subscribe to my monthly updates and notifications of new work. You can see the work online now as well as other recent Melbourne landscapes on alexandrasasse.com.
Documentary Drive: Are there any artists whom you identify with in terms of style or whom you personally admire in the genre of landscape painting?
Sassé: Art is never made in isolation. There are contemporary and historical sources for this work. I have just returned from the Madrid Realists exhibition at the Thyssen Bornemisza museum in Madrid. The Spanish work has particular resonance for me. Partly it is the colour and light of Spain – there are a lot of resemblances to our bright Australian light, but more importantly the attachment to perception and the motif of the city are key.
In Australian art a long history of images of our city informs the work from Roberts' "Bourke Street west" to Brack's "Collins St, 5p.m." and "Subdivision". Jeffrey Smart of course was also fascinated by the forms of the city. Going further back, Canaletto and Vermeer are obvious antecedents. I also draw a lot on the Dutch seventeenth century paintings, once again because of the physical attributes of their landscape. They, like us, had to deal with huge skies and flat landscape and still create convincing recession. Locally I am a great fan Tasmanian painter Philip Wolfhagen.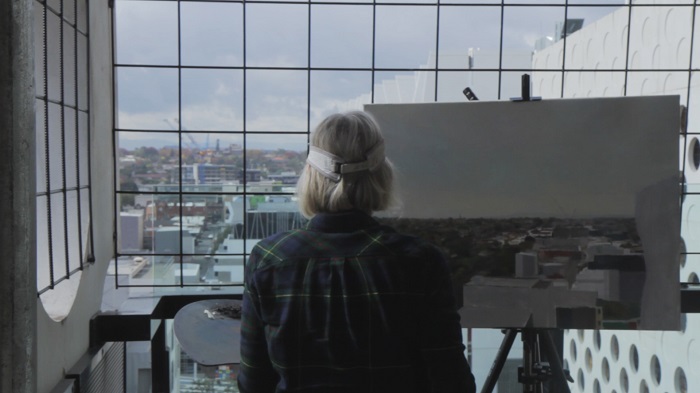 Documentary Drive: Where are some of your favourite places in Melbourne to see art?
Sassé: We have great resources in our collection here at the NGV – the best in Australia. I love to go through the permanent collection. It's free of course which is very important as it belongs to us all and must be accessible. You have to pay to get in to the Prado. We have a variety of spaces in Melbourne that reliably show interesting work, I am always happy to drop in on Australian Galleries, Flinders Lane, Karen Woodbury or fortyfivedownstairs. I tend to pick galleries that show paintings, as not all do of course. Gardening is an art too and a landscape painter can learn a lot from the organisation of space and use of texture and colour in a garden. Monet wasn't just messing about when he created Giverny. Our botanical gardens (both Cranbourne and South Yarra) are two of my favourite places and also free (unlike Madrid's).
Documentary Drive: Finally, how do you hope audiences view their own relationship with landscape and art after watching your film? And is there anything else you'd like them to know about your experience creating this painting that perhaps the film doesn't show?
Sassé: The landscape and art belong to us all. Painting can help us to feel how much a part of ourselves it is, and understanding that, allow us to love it and to honour it a little more.
---
For more information on Alexandra Sassé's work, you can follow her on Facebook, Linkedin, or Subscribe to her monthly newsletter for the latest on her art and upcoming exhibitions.
"Painting Landscape" can be seen July 9th at the Melbourne Documentary Film Festival during Short Documentaries – Session 1. Tickets are currently available through Moshtix.
Additional festival information online at: mdff.org.au / @mdffest / MDFF Facebook Group