Astronaut Scott Kelly reached the six month milestone of his yearlong mission aboard the International Space Station in September. As you may know, Kelly's expedition is to study the impact of long-term space travel on body and mind. Researchers hope to gain critical information from his mission about the physical changes the body goes through in order to better plan for future far-reaching expeditions, including one day to Mars.
His mission is being covered extensively by TIME in the multi-part documentary series, "A Year in Space," produced by Red Border Films and directed by Shaul Schwarz and Marco Grob. According to TIME, there will also be a feature-length documentary about Kelly's experience released at the end of the year.
At the time of this posting, there are currently four episodes of "A Year in Space" available online. Each episode is approximately 13 minutes long and showcases a distinct stage of Kelly's mission preparation and features interviews with Kelly, his personal acquaintances, and key figures in the space industry.
In Episode One, Kelly is at home in Houston with his family and friends as they attempt to emotionally prepare for his departure. The next stage, Episode Two, sees Kelly miles away in Star City, Russia, where he is wrapping up his final days of training and qualification exams at Gagarin Cosmonaut Training Center, a once top secret location. During the Third Episode, Kelly enters the two-week quarantine phase of his pre-flight activities in a remote area of southern Kazakhstan. And finally, Episode Four—the arrival of launch day.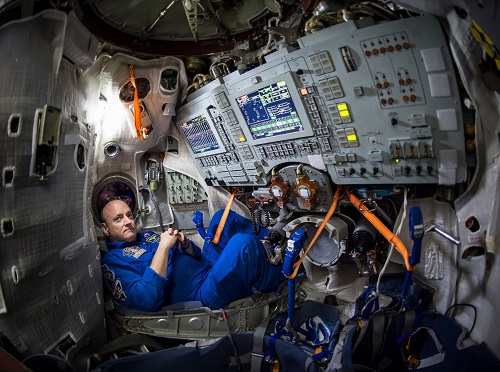 From a historical standpoint, Episodes Two and Three are perhaps the most intriguing. It's fascinating to see the Russian space facilities and their unique surroundings. There is a captivating mystique that lingers over the areas. From an American perspective, these locations are typically thought of as mysterious, which is an expectation that is certainly met in many scenes and also includes an added layer of quirkiness, since the whole identity of these communities is rooted in rocket ships and space. As Kelly points out in the second episode, referencing Star City, "You know, a lot of the people that work here, live here. In Houston, no one lives at the Johnson Space Center."
I think the thing that surprised me most about these four episodes is just how somber and reflective they are. There is a sense of melancholy that runs through each like a sober mourning for the yearlong loss of Kelly's physical presence on Earth. The cautious human reaction to change and leaving are successfully transmitted on screen.
There is, however, very little palpable excitement in the episodes. The slow classical music and overall style of editing fosters a mood of quiet intensity over that of enthusiasm. I'm interested to see if this feeling carries over into future episodes or if there will be a transition to a more upbeat tone. I'm rather hopeful for a transition. After all, what Kelly's doing is exciting, not to mention pretty dang cool. After the sorrow of leaving behind loved ones and home on earth, it'd be nice to see a heartening rebirth of Kelly making a second home among the stars.
Click here to watch the first four episodes of "A Year in Space" and let me know your thoughts on the series below.