If you're flying into Melbourne for this year's Melbourne Documentary Film Festival, you should know that when you land at Melbourne Airport you'll be in the presence of greatness.
The star of director Elle Marsh's "Vacant" sits coolly 24/7 taking in the sights, welcoming Melburnians home by helping them get lost, making tiny jet-lagged children cry, teenagers whine, and allowing wheels of all sizes to roll indiscriminately across its back.
Yes, whatever your wanderlust may be, Australia's largest car park is ready to take you in or send you off.
Screening July 9th at the Melbourne Documentary Film Festival, "Vacant" is a four-minute-long observational short documentary by Victorian College of the Arts master's student Elle Marsh that will make you see this mammoth parking structure from new angles and ask yourself just how much car park is too much car park?
Documentary Drive caught up with Marsh recently and asked her about the creative concept behind the film and how she hopes it prompts audiences to rethink Melbourne's urban sprawl.
---
Can you tell me a bit about your background and your filmmaking experience?
I just bloody love film really. Last year I decided to go back to study, and am currently finishing my Master's in Documentary Film. You can see some of my work here.
What inspired you to make a documentary about Australia's largest car park?
I think it was reading a quote in the paper by the then Planning Minister saying 'Melbourne Airport's massive car park should have its own suburb name and postcode!'
I had always been fascinated by the space and its strange beauty at night, but when I realised how huge it really was, I thought the car park could be a great vehicle to explore urban sprawl in Melbourne.
How did you go about planning for the film and how many hours did you spend in the park actually filming? Did you have to seek special permission to be allowed to shoot there?
I sought permission from the Melbourne International Airport Operations to film. It took a long time to organise and while we where shooting we constantly had security double checking that we were allowed to be there.
During this time, did you learn anything new that surprised you about the parking structure or Melbourne Airport, in general, that you didn't know before?
During my research I was shocked to learn that over 120,000 cars visit the airport everyday. I was also surprised to learn that the car parks make over $300,000 a day – it is ridiculously expensive to park there. What I most enjoyed about the process was meeting strangers in the car park or around the airport that would come simply to watch the planes.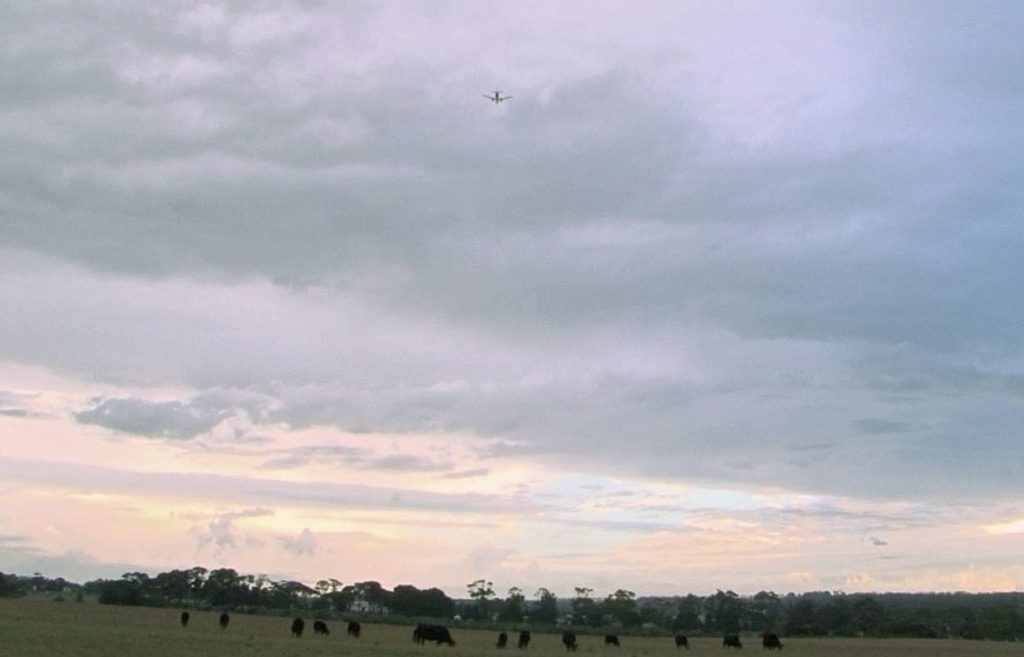 One of the unique aspects of "Vacant" is its observational style. For a place so busy, the exclusion of human voices makes for an interesting viewing experience. Did you always know you wanted to use this approach? 
I initially wanted to make a silent film where the car park would become the driving 'character.'
As this observational style was a new form for me, I sort of panicked halfway through and toyed with a whole bunch of other ideas. I thought making people look at a car park in silence could be incredibly boring for people other than myself.
Anyway, so I spent an afternoon riding the transport bus from the car park to the airport, recording the bus drivers, who told me a bunch of amazing stories about the people they pick up and drop off, especially stories of people being lost for long periods of time in the rows of cars.
In the end, I decided to stick to my initial idea. I didn't want to complicate the film's purpose, but hopefully I will do something with the bus drivers' recordings soon.
After watching the film, what types of questions do you hope audiences ask themselves about urban sprawl and sustainability in Australia?
For me, the process forced me to constantly question our reliance on cars. Is there something systematically flawed with a 25,000 space car park in the bush?
This sprawl of car parks spoke to the way we don't push ourselves to change, and that as a society, we often simply follow the easier or simpler path as we expand and grow.
---
For more information on Elle Marsh's work, visit: elle-marsh-media.squarespace.com.
"Vacant" screens July 9th at the Melbourne Documentary Film Festival during Short Documentaries – Session 2. Tickets are currently available through Moshtix. 
Additional festival information online at: mdff.org.au / @mdffest / MDFF Facebook Group