Directed by Niu Zi, "Mind Landscape" takes viewers on a reflective journey through remote areas of Tibet following photographer Yang Yankang as he captures the heart and beauty of a people and region few will ever have the privilege of seeing in person.
The film is a compelling visual experience. There is no dialogue except for a few brief untranslated exchanges between Yang and those he encounters.
Sound does have a strong presence in the film, however.
Natural elements such as sweeping winds, flowing water, the crunch of footsteps over snow and gravel, and other environmental noises lend a transporting and meditative-like quality to the film. A beautifully constructed score by North American composer Stephen Emery further ties the film together and adds to its immersive nature.
If you have an interest in Buddhism and Tibetan culture or if you simply value photography, "Mind Landscape" is a must watch for its depiction of Tibet's isolated monasteries, up-close look at the practices and daily routines of the monks and others who live in the region, and one man's dedication to capturing it all over the course of ten years.
While there are numerous neatly edited sequences in "Mind Landscape" like gorgeous time-lapses of clouds and mountains, some of the best are when Yang's portraits are overlaid against the live shots and you essentially see the photographs come to life.
It's wonderful to watch Yang at work but to see the product of his work alongside his journey is really quite remarkable and ultimately enhances the audience's perspective and appreciation of Yang as an artist.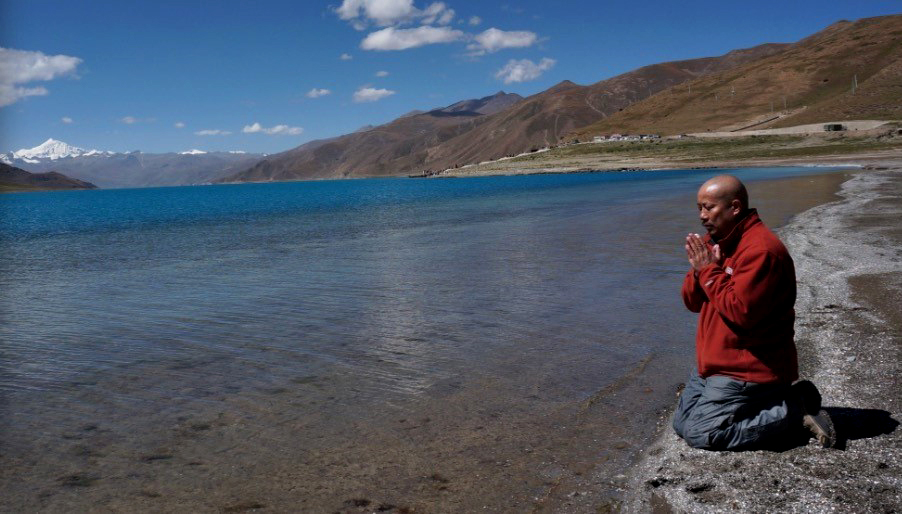 Without dialogue your mind is free to wander during the film. You may even come up with different philosophical musings about the film's purpose.
According to the synopsis, the purpose of Yang's photography project was "to show the world a decade of enlightenment." Director Niu Zi is triumphant at bringing that sense of enlightenment to screen both in his homage to Yang but also through his own creative decisions and capturing of an open landscape and way of life unimpeded by distraction.
As we make our own treks through life, perhaps we could all stand to reduce the noise a little bit, and like Yang, walk down rugged paths with hearts wide-open and minds eager to see.
---
"Mind Landscape" screens Oct. 30th at the Arohanui Film Festival in Te Aroha, NZ. Tickets are currently available through Eventbrite. 
Additional festival information online at: arohanuifilmfestival.nz / Twitter / Facebook