One of the most beautiful aspects of documentaries is the chance to learn about the worlds of other people. In the words of author C.S. Lewis, "My own eyes are not enough for me, I will see through the eyes of others." Like a great book, a great film transports you to another space, eyes open ready to see, ready to discover.
Janos Zoltan's documentary "Secret Matters" is a film that does just that. It is an intimate and memorable journey into the life and mind of Australian writer Gerald Murnane and the search for what makes him tick.
Murnane is a fascinating character. A writer with a deep love for a country, Hungary, whose culture has permeated his being and filled his work, but one which he never plans to visit. "Most things I find interesting live in my imagination. Hungary is one of them," he states during the first two minutes of the film. It is a country that flows through his veins as if it were his own homeland. Zoltan, a Hungarian native who now lives in Australia, sets off to uncover the heart from where Murnane's passion for the region stems from. The result is a 20-minute film that is both poignant and captivating.
"Secret Matters" screens July 16th at the Melbourne Documentary Film Festival. Ahead of its screening, Documentary Dive interviewed Zoltan who graciously shared insight into the making of the film and his life as a filmmaker.
---
Documentary Drive: Can you tell me a bit about your background and what motivated you to become a documentary filmmaker?
Zoltan: My childhood dream was quite close to what I have become. I was a 7 year-old boy when my friend and I played the role of a sport commentator. We grabbed a tape recorder, and with an almanac in our hands, we started to broadcast the matches of World Cup '74 using our imagination only. Later on we went to the streets and interviewed people, produced programs for our elementary school radio. But following your dream in a communist country was almost impossible. When we finished our studies at the University, Hungary became a Republic. Media schools opened their doors. I applied for a post-graduate course and at the end of the school I gained a scholarship that allowed me to work for the public TV station as a reporter/producer. That is where everything started.
Documentary Drive: Writers can sometimes be reclusive, what was Gerald Murnane's reaction when you first approached him with the idea for the film?
Zoltan: For the very first time when I came to Melbourne in 2005, I was working on a TV documentary about the fate of the Hungarian Olympians back in 1956. Someone from the Hungarian Community had this thought that Gerald Murnane would have to be one of the participants in my film and brought him to the place where we shot our interviews with other subjects of the documentary. We recorded an approximately 30 minute-long interview with Gerald, but we were aware that this footage would not provide sufficient content to our main story. When Gerald was just about to leave, I approached him and told him that I would love to do a documentary about him and his story, but at another time…Those few minutes marked the start of our relationship and basically our friendship as well.
Documentary Drive: As you learned more about his life and passion for Hungary, was there anything that surprised you about him personally or his perspectives of your native country?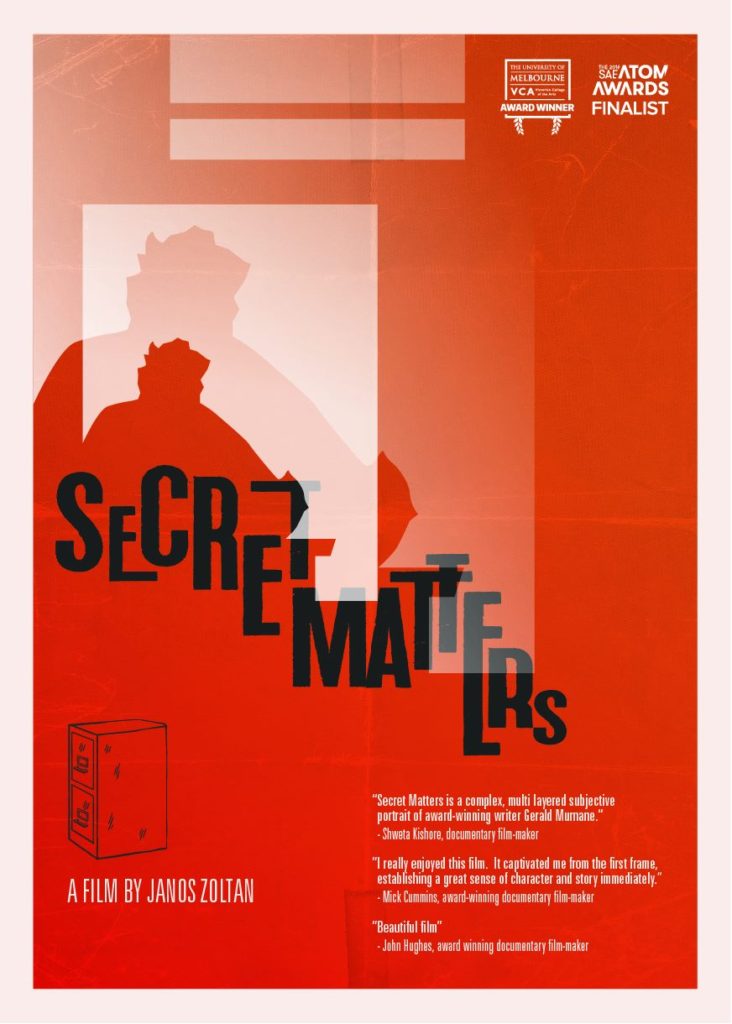 Zoltan: I had been planning to make this documentary for almost ten years. During the process of script writing I learnt and explored a lot.
It was a hard journey, but finally I was able to write a script and I could define the theme of the movie as well.
Gerald Murnane falls in love with the culture of a country that he has not been exposed to.
He taught himself Hungarian and by now speaks a nation's unique language, recites their poems, prose and sings their songs. However, he does not want to travel to their homeland. There is not any practical reason behind his hard work. I realised that Gerald, even though he was born a true blue Australian, was able to transform half his soul which became perfectly Hungarian. That was one of the biggest revelations. I suppose Gerald Murnane is an extremely unique character in the world.
Documentary Drive: There is a moment near the end of the film when you present Gerald with a photograph of a young female Freedom Fighter who inspired and lived in his memory for many years. Did you ever find out more about her life or did Gerald remain content with simply knowing her through the vision he had created of her?
Zoltan: A few years ago a journalist researched and published a short article about that young female freedom fighter. Her story is deeply haunting and sad. Gerald did not want to know any concrete facts about her, so I did not share any specific information about her in my movie either. But I have a plan in my mind and I will let the readers of Documentary Drive know when it will be a film.
Documentary Drive: Can you compare for me the experience of what it's like being a filmmaker in Australia versus that of Hungary? Are the challenges facing filmmakers similar or are there unique issues and differences between the two countries' film industries?
Zoltan: Being a filmmaker in my native country or here in Australia is almost incomparable. I moved to an English-speaking country because I wanted to share stories about my roots and heritage with the people who do not speak Hungarian. Then I had to realise that it was going to be a tough job. It is completely different task to produce a movie for the audience in Australia than for the viewers in my native country. It took me probably ten years to learn how to tell a story here. Artistically, it is probably the same but the structure of the narrative has certain distinctive features. There is another huge difference as well. Here if the movie is good your credibility grows and the appreciation from the industry is palpable. I produced a few quality films in my native country but they did not get much acknowledgement at all. That hurts a bit…
Documentary Drive: One thing I admire about your approach to filmmaking is the emphasis and value you seem to place on personal narrative and really learning about your subjects—their lives, their histories, their reflections…The result on-screen being these beautifully intimate portraits of individuals who no longer feel like strangers when the film is over. What is your approach going into a film project like "Secret Matters" and do you follow a particular philosophy that helps guide your decisions as a director?
Zoltan: It is a difficult question, but the answer is quite simple; I love the participants of my documentaries. That is the most important tool, I suppose. If you are truly interested in someone, the audience will be on the same page. On the other hand, it's a huge challenge to include someone in your film if you do not like the person, but you need her/him as a participant because it is relevant to your subject. But then again, the same philosophy applies. If the theme of your documentary is your passion and it is really important to you to tell that story and you feel that you are the only one who can do so, it will be a good film and will resonate with the audience as well. But do not waste your time if it does not come from your heart.
Documentary Drive: Finally, what do you find most exciting or rewarding about being a documentary filmmaker?
Zoltan: Let's talk about my latest experience. After "Secret Matters" was seen by a great number of people, they were inspired to read Gerald's books. That is one of the most important rewards. And there is another one… this film was able to deliver or show a place for the audience that practically does not exist. It brought images from the deepest corner of the soul… I think, this is quite something. Isn't it?
---
"Secret Matters" screens July 16th at the Melbourne Documentary Film Festival. Tickets are available through Moshtix. Follow "Secret Matters" on Facebook for the latest on the film and news of future screenings.
Additional festival information online at: mdff.org.au / @mdffest / MDFF Facebook Group