A curious inquiry to a friend about why he walks so funny leads to the unfolding of the man's life story on a lawn bowling green in "A Man From the Other Side" directed by Ivan Gaal and Janos Zoltan.
In this fascinating and quirky 8-minute short, Denis Evans a journalist and presenter at Melbourne radio station 3CR discusses his early life growing up in a working class family and how he became a reporter associated with the Communist Party and the fight for social justice.
To Evans' friend, and co-director of the film, Ivan Gaal, who fled communist Hungary and came to Australia as a refugee, he is indeed a man whose views are from the other side of the spectrum.
Throughout the years, Gaal has been an active fixture in the Melbourne film community. A '78 graduate of Swinburne Film School, Gaal worked for two decades for the Victorian Department of Education's Film Unit. His filmography is vast and includes short documentaries and other works that have been featured at festivals in Australia and abroad, and if you're lucky enough to be in Melbourne, you can even find a number of Gaal's films on permanent display at the ACMI Mediatheque.
Documentary Drive had the honor of interviewing Gaal recently, whose film "A Man From the Other Side" screened at the Melbourne Documentary Film Festival earlier this month, and asked him about his time working on the film and the appeal for him of short documentaries as an art form.
---
Documentary Drive: What attracted you to documentary filmmaking and to short films in particular?
Gaal: I was brought up in the Soviet Communist system in Hungary in the 1950s. The only art form we were allowed to be exposed to was social realism. That included painting, sculptures, writing and also films. We were not allowed to see the main western films. I suppose that feeling towards any art form stayed deep in my psyche. So, when I drifted into filmmaking I was more interested in "education" rather than just entertainment.
I felt that I could express myself and my interests by making short films and documentaries. I also felt that in this way I could pass on my message easier and more quickly, while still being able to be creative and thought provoking.
Documentary Drive: Can you tell me a bit about your motivation to tell Denis's story? What was his reaction when you first approached him with the idea for the film?
Gaal: It is a true story. I was lawn bowling with him and I genuinely was interested to find out why he walks so funny. When I heard his story, I was totally immersed in it and told him that I would like to make a short doco about his story. He was happy to collaborate.
I escaped from the Soviet occupation from Hungary, and I found this man in Australia who sympathized with the system I left behind. I felt I had to "explore" him. I saw the potential to create a visual joke as well as explore why a man like Denis decided to take the "other side…" I think this short film has done it, although if we had a bigger budget, it could have been a longer film and would have had more depth to it.
Janos Zoltan, who was also brought up in communism, helped me to complete the production. The film had no budget, we paid from our own pockets for everything.
Documentary Drive: What were the most fun and challenging aspects of working on this project?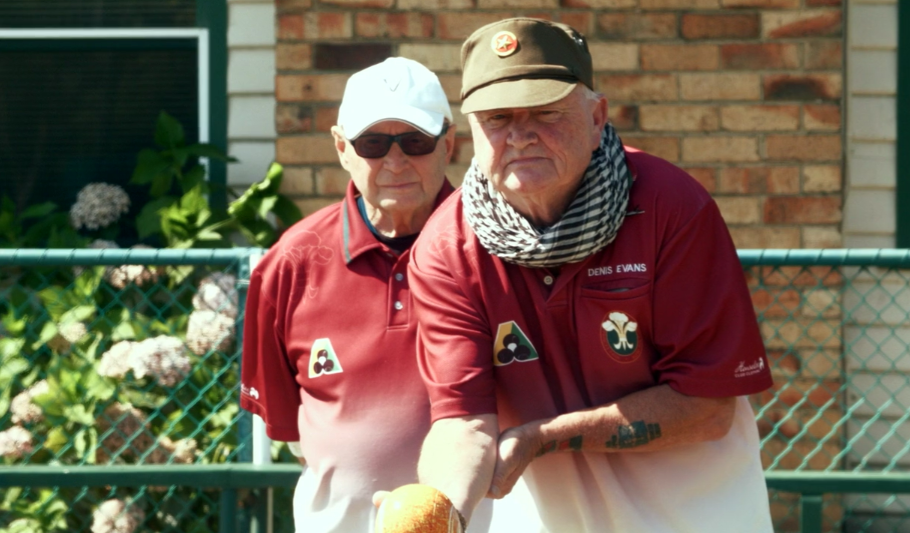 Gaal: Denis, the protagonist, has a great sense of humor and is easy to work with.
So, it was a rewarding experience all around to complete the project. It was fun and there were no personality problems during the production.
Getting the photographs of communist statues was a challenge, but a relative in Hungary helped us out. Another challenge was to get archival photos in Australia for free. In the end, we managed.
Documentary Drive: Of your long filmography, is there a film or two that you're most proud of and why?
Gaal: The film "Ibrahim" has received many awards both here and overseas. In the film I used my own experiences in my early days in Australia as inspiration. It was a great team effort to complete this film. I am very proud of it, because it influenced the government to change the way migrant children were supported to move into mainstream education in Australia.
Documentary Drive: You're also an award-winning photographer, from an artistic perspective how do you perceive the differences between telling a story on film versus capturing one in a single image?
Gaal: Telling your message in one single image is hard work, but at the same time easier. You don't have to work with a large team and satisfy the needs of others. The budget is smaller and you are free to create your dream without interference. Now that I am older, I have just enough energy to put my creative ideas into a project and follow it through till the end. I always loved photography because it led me into filmmaking.
Documentary Drive: What to you makes a great documentary?
Gaal: An honest approach by the makers is the first requirement. Passion for the subject and objectivity towards the content is also very important. It should engage the audience to the point where one is inspired and ready to learn from the experience by seeing it.
Documentary Drive: Lastly, if there's one thing you hope viewers remember about "A Man From the Other Side" what would it be?
Gaal: Marginalized people turn to different and sometimes dangerous ideas to change their lives. A society should take care of the less fortunate, integrate them and give them a chance to improve themselves. The start Denis had in his life in Australia was a lot worse than me living under the Soviet system. I would like the audience to make that connection.
---
To learn more about the films that screened at the 2017 Melbourne Documentary Film Festival, visit:  mdff.org.au / @mdffest / MDFF Facebook Group