Heavy metal generally isn't the first thing that comes to mind when one thinks of Vietnam, nor is Vietnam generally the first place one thinks of when it comes to heavy metal.
Yet, art and music can never be constrained. Artistic endeavors scribble across cultures and miles and, like a pipeline to the heart, one beat or strum can set off a surge of creative passions and musical obsessions. So, perhaps it's no surprise that despite rock music being banned for more than a decade following the Liberation of Saigon in 1975 the world of metal with all its passion and zeal would manage to find its way into the hearts and talents of some very ambitious musicians in Vietnam.
"Saigon Metalhood" directed by Sean Lambe and William Snyder seeks to tell the story of these musicians and the challenges they face both personally and in a society that's still cool to fully embrace the genre as something not scary but one that is unique and lyrically brave.
This feature film is relatively short at just over 60 minutes long and is divided into three sections: past, present and future.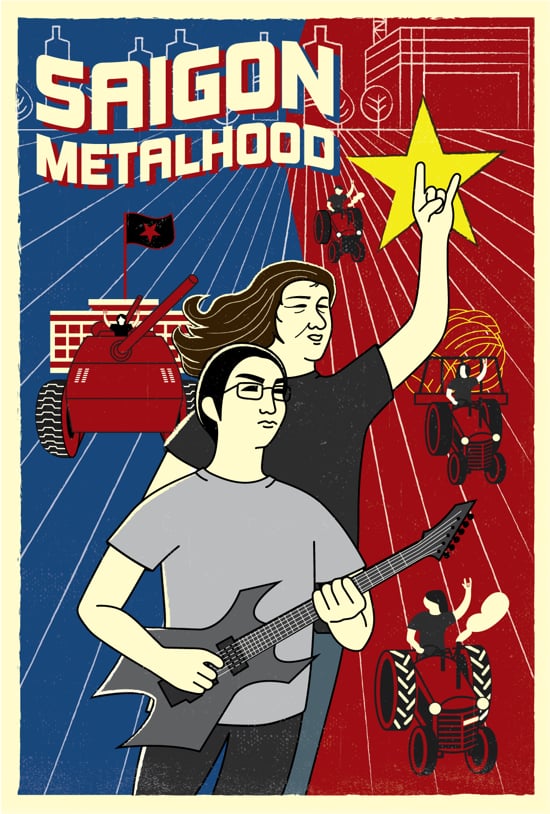 The first segment features Trung Thành Sago, one of Vietnam's original and most well known metal artists.
Sago's segment details the origins of heavy metal in the country and the span of his lengthy career. Immensely talented, he shares precious insight into what it was like to perform during the early days of western music being allowed in Vietnam, as well as his time playing in the band Sagometal.
Viewers will be drawn to his laid back attitude and additionally wish his scenes were just a bit longer. Clocking in at approximately 13 minutes, it seems like a very short amount of time for a prominent music figure who could easily carry a much longer duration of the film with his story.
Understandably, the filmmakers are trying to fit a lot into the documentary.
Given its quick pacing, "Saigon Metalhood" feels more like an introduction to metal in Vietnam than it does a complete history. With that said, perhaps the brevity works in its favor and is just enough modicum needed to encourage viewers to seek out more information about the artists or music on their own.
During the second chapter of the film viewers meet Trung Loki, a successful contemporary metal musician and record label founder who doesn't hold back when discussing the trials he's faced personally or professionally.
When I first watched this portion of the film I was surprised by how revealing Loki is. He doesn't sugarcoat what it's like to pursue metal in Vietnam—it's hard.
Making money from any art form is often a trying experience. Couple that with living in a still developing country and the odds become even more insurmountable. His outspoken nature may be gruff at times, but Loki's scenes are raw and honest and you can't ask more from a subject than that.
The third section of the film takes viewers inside the media production company Legacy and follows a young band called Hysterical Buffalo as they attempt to put together a large international metal performance featuring critically acclaimed deathcore band Whitechapel.
Vu Nguyen, the bassist for Hysterical Buffalo, features prominently in this chapter and you can sense the pressure he's under to put on a successful show. Initially, this portion of "Saigon Metalhood" has a hopeful undercurrent given the youthful nature of the band, but as the film progresses that energy seems to shift. Whereas Sago had a palpable sense of fun and lightness in his approach to music, that same feeling doesn't continuously translate in the scenes with Nguyen and Hysterical Buffalo. The fun seems to be missing by the end and is instead replaced by the intensity to be successful. Whatever that may mean.
So, the big question is—should heavy metal fans see "Saigon Metalhood"?
If you like metal but also have an interest in learning about people and the challenges they face pursuing their dreams, then yes.
Like most musical genres, metal is subjective and you might not like the styles featured. I know zero about metal minus a general knowledge of Metallica, so I was less into the concert scenes as I was learning about the stories and experiences of the musicians featured.
As you might expect, metal in Vietnam is an uphill battle. Most creatives will empathize with the struggle to keep creating or performing when few are listening. What "Saigon Metalhood" shows us is that even in adverse situations the creative heartbeat still lingers. While the film ends on a solemn note, "Saigon Metalhood" is a worthy watch that movingly depicts the artists and gives them a wider audience to be heard, and for that we give our applause.
"Saigon Metalhood" is available to watch on Vimeo On Demand and Prime Video. For more information, visit: saigonmetalhood.com.