Is "Meru" thrilling? Yes. Breathtaking? Incredibly so. Are there scenes that will make you nervous? Many. Some reviewers have called "Meru" terrifying. "Terrifying" seems like such an ill-fitted word to ascribe to a film these day. There are many terrifying things in this world. "Meru" isn't one of them. What "Meru" is and what "Meru" does—is a magnificent job of building tension and prolonging suspense in an adventure documentary that captures the human side of those that often seem fearless.
The film documents mountaineers Conrad Anker, Jimmy Chin, and Renan Ozturk as they attempt to scale one of the Himalayas most dangerous peaks via a route no one has successfully completed before, Shark's Fin. Audiences will find their empathy swaying from climber-to-climber as Anker, Chin, and Ozturk recount different setbacks and challenges they faced while trying to conquer Meru Peak.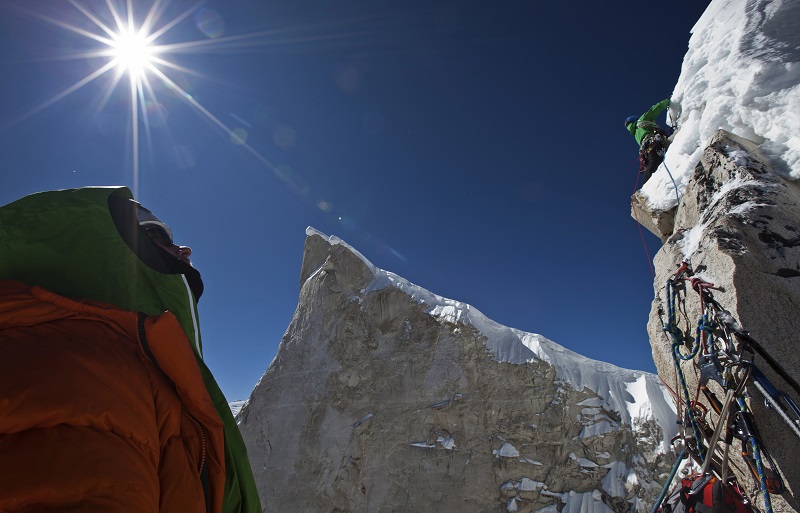 Throughout the film author and fellow mountaineer Jon Krakauer, best known for his book "Into Thin Air," is featured as a commentator. With utmost respect to Krakauer, his role in the documentary is a little unnecessary. Indeed, he is a great authority on climbing and one of society's go-to guys on mountaineering, but Anker, Chin, and Ozturk are also expert climbers. Including a fourth authoritative voice on the subject isn't needed to give the film strength or to move the narrative along successfully.
Krakauer's appearances also feel disproportionate to the amount of times the families of the climbers are featured. Considering the climbers' home lives were important for co-director Chai Vasarhelyi to include, as is indicated in her director's statement, it seems like the family members should have been heard more than Krakauer, which strangely, with exception to Conrad Anker's wife, didn't seem like they were. Though, it should be noted, the scenes off the mountain that do feature the climbers or their families are irreplaceable. If Meru Peak is the film's heart, these scenes are its lifeblood.
The most mind-blowing thing about "Meru" is the cinematography. The fact that climbers Jimmy Chin and Renan Ozturk are the ones doing the filming is extraordinary. Some might call their feat of filming while attempting to scale such an obstacle-ridden peak nuts. On the contrary, it goes to show what astute climbers these men are and how masterful their skills are behind the camera. For its cinematography alone, "Meru" would be well-deserving of an Oscar nomination come January.
"Meru" is currently available on DVD, Blu-ray, and VOD. The film is rated R for language, though a PG-13 rating would likely have sufficed.
If you've seen "Meru," what did you think? Share your thoughts on the film below.