Globally, one billion people suffer from debilitating migraines. When filmmaker Susanna Styron's daughter Emma became one of them, the frequent migraine attacks became the catalyst for her to uncover all that she could about the life-altering condition and ultimately to team up with friend and fellow-filmmaker Jacki Ochs to make "Out of My Head," a feature length documentary 8 years in the making, exploring the neurological disease and destigmatizing it through the personal stories of those afflicted by the often crippling migraine pain.
Ahead of the film's July 12th screening at the Melbourne Documentary Film Festival, Susanna Styron (director) and Jacki Ochs (producer) share insight into the film's production and the impact they hope "Out of My Head" has on audiences and the support and sense of community they hope their film creates for those whose lives have been deeply affected by the volatile and largely misunderstood condition.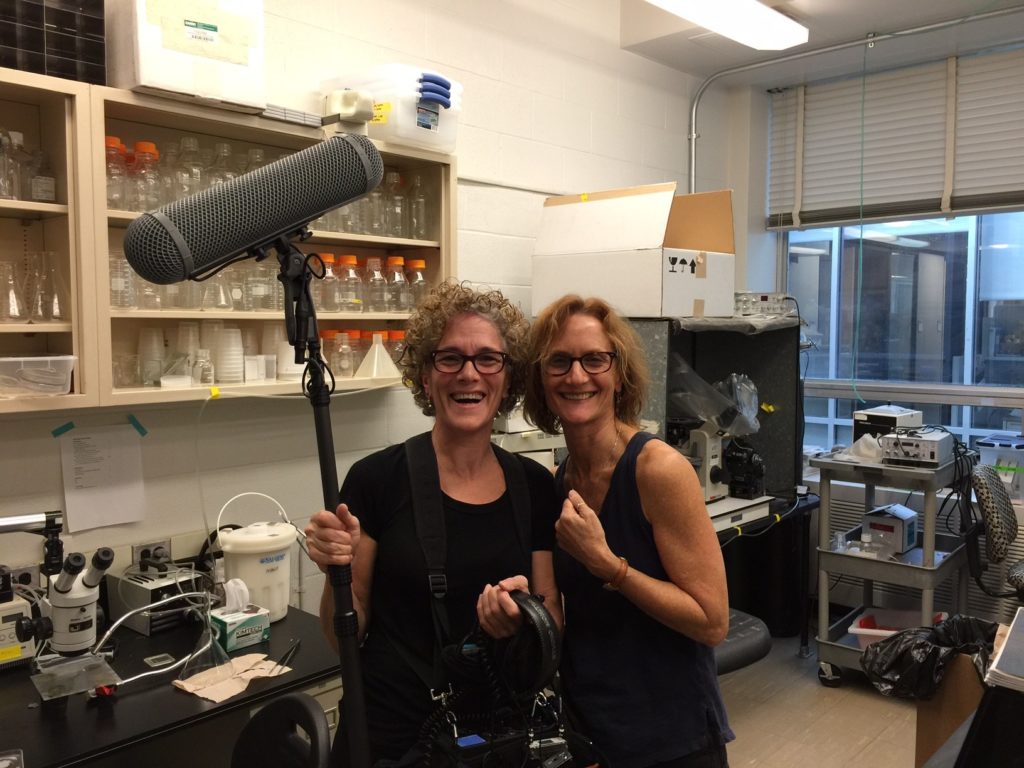 Documentary Drive: What was the most important factor for you in your decision to make "Out of My Head"?
Susanna: The most important factor for me in making this film was my daughter and her suffering. Especially her emotional suffering. There wasn't anything I could personally do about her physical health — other than get her the best medical care I could find — but I could help her emotional state by making this film. People with migraine, and other invisible diseases, are so isolated and stigmatized in their suffering, I believe there is profound psychic healing that comes from being truly understood by others. That is what our film has to offer.
Jacki: I too have family members who deal with migraine disease. People with migraine feel they can't talk about the disease, are fearful that they will be considered slackers in the workplace, and often find themselves living in a kind of social exile due to chronic migraine attacks. With heightened awareness and empathy comes the likelihood of increased support for more research dollars dedicated to seeking a cure.
Documentary Drive: Do you have a favorite memory from your time working on the film?
Susanna: Honestly, my favorite memories are of being able to travel with Jacki to make this film. Especially Berlin – and now Australia! We're very close friends and we work really hard, so it's great to be able to meet new people and discover new cultures together, and just have some fun.
Jacki: I agree entirely. There's nothing better than working with a close friend and combining fun along with our wits.
Documentary Drive: What was one of the biggest hurdles you faced during production and how did you overcome it?
Susanna & Jacki: Our biggest hurdle – though there were many! – was really finding the narrative arc to the film. The key to it was making Susanna a character in the film, and charting her journey with her daughter in a more personal way. Basically, it went from an objective documentary to a subjective one. This didn't happen until about five years into our eight year process.
Documentary Drive: What influences your approach to filmmaking?
Susanna: The story really influences and determines my approach. Every story demands to be told in its own unique way. Also, watching other people's work which I admire, and understanding why I feel that way, can be an important influence.
Jacki: I've been influenced by artists of all disciplines; I admire risk and daring in whatever medium. With documentary, for me it's the process of doing research, gathering materials, digging into the 'characters' and allowing them to speak their truths, which inevitably guides and shapes the outcome of the story and style of the film. There is no formula.
Documentary Drive: And lastly, what is the number one thing you hope "Out of My Head" conveys to audiences and are there any words of advice you might have for someone affected by migraines who may be watching the film and feeling alone?
Susanna & Jacki: Our number one goal is to increase compassion and understanding for the nearly one billion people who suffer from migraine, usually in tremendous isolation. We're doing this by creating awareness of the realities and ubiquitousness of the disease, and in the process we hope to contribute to destigmatizing it. As for words to those affected by migraine: "You are not alone! You are in the company of nearly a billion people. Bring your loved ones to see the film so they can truly understand what you're going through and give you the support and understanding you need."
"Out of My Head" screens July 12th at the Melbourne Documentary Film Festival. For more information on the film and resources about migraine, visit: outofmyheadfilm.com.